Quality care at Ron Smith Care Centre (RSCC)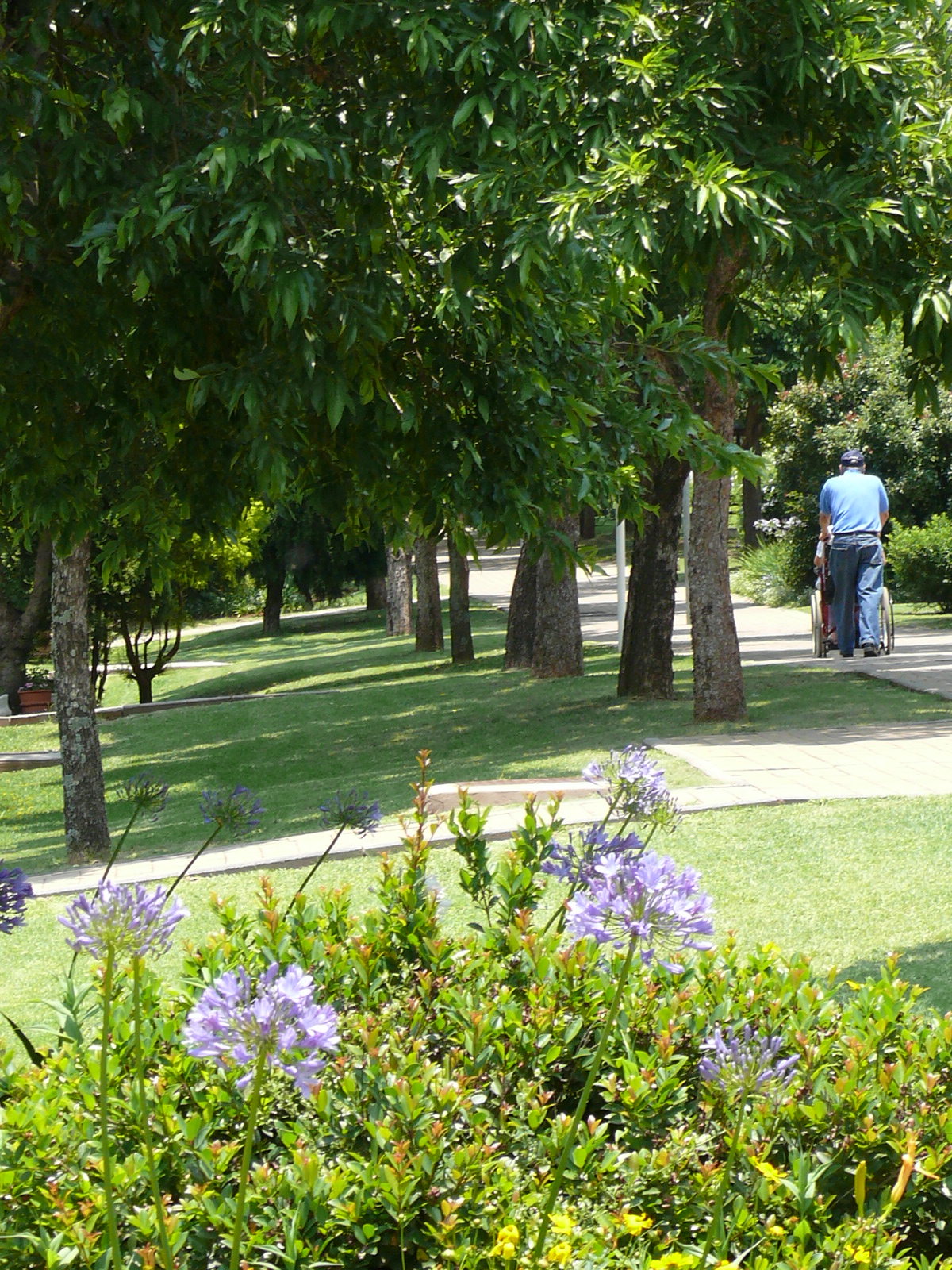 What makes RSCC special?
Ron Smith Care Centre offers beautiful and pleasant surroundings, that are  enhanced by trees, well-tended gardens and dams with a variety of bird life.
Dotted around are benches, offering opportunities for relaxation and socialisation in the lovely gardens, and we encourage and welcome regular visits by family and friends.
The Elphino's Coffee Shop has outdoor and indoor seating and offers a tempting menu for visitors and residents. There are also lapas and braai areas for use. Playground equipment for children is conveniently close to these facilities.
Where is RSCC situated?
Ron Smith Care Centre is situated in the beautiful grounds of Elphin Lodge retirement village, in Edenvale, Gauteng, which incorporates the village and the care centre seamlessly into a happy, active social environment with many shared facilities and services.
The Eden Alternative difference
Ron Smith Care Centre has pioneered person-centred care by becoming the first organisation in Africa to achieve Milestone 2 on the Eden Alternative® Registry, in April 2020.
Founded in America by a Harvard-educated physician, the Eden Alternative is revolutionising the way in which Elders are cared for. The core concept is about teaching us to see places where Elders live as habitats for human beings rather than facilities for the frail and elderly. Eden Alternative thus sees aging as a continued stage of development and growth and not as a period of decline.
At the end of 2016, after a process of physical, cultural, organisational and personal transformation, the criteria for Milestone One was reached and the care centre became only the second in Africa to achieve Eden Registry membership. In 2020, we achieved Milestone Two, becoming the first organisation in Africa to do so.
The Eden Alternative initiative ensures that we bring the highest level of care and wellbeing to our residents and takes into account their holistic wellbeing, not just their physical care.
Our care partners are aware of what holds meaning for individual residents, even in simple, everyday things – they are committed; they work well together as a team and value relationships. They give recognition and celebrate achievements.
RSCC's Eden Alternative journey has been transformational. Quality care has always been measured against objective criteria and standards that equate homes for older persons with hospitals or nursing homes, with a primary focus on nursing care.
With such a narrow focus, it is easy to concentrate only on the requirements of a person's illness, age or disability and to overlook the social, emotional, spiritual and growth needs of the person. Often, their personal needs, preferences and dreams are not considered.
The Eden Alternative philosophy has enabled RSCC to see the person and not the patient. Each person who comes to live with us has a history, memories, dreams, aspirations and a need to be acknowledged for who they are.
Our home is now their home and we create a warm, loving and caring environment where each person can experience a life worth living.
Ron Smith Care Centre units
Ron Smith Care Centre offers quality care for 160 Elders in either single or double rooms, with or without private bathrooms, in a choice of separate wings.
RSCC offers frail care which is tailored to the needs of the resident. We care for residents who have physical frailties as well as persons living with dementia. When space allows, we also offer respite care when the regular carer needs a break, and recuperative care after hospitalisation or illness.
All of the above are offered on a long- or short-term basis and all rates include full board and lodging, laundry, recreational and/or occupational therapy services, 24-hour nursing care and a doctor on call. The services of a full-time social worker is included in our holistic care approach.
The staff work as a team to provide holistic care to residents and a structured volunteer programme is in place to assist with recreation activities, provide personal support and friendship to residents and in general, maintain contact with the community out there.
Ron Smith Care Centre's accommodation
is provided in six separate wings, each being a small community on its own. These are: