Elphino's is the place to meet!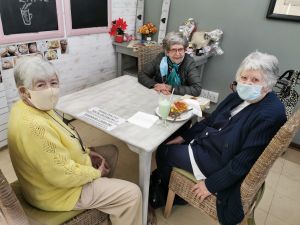 Elphino's Coffee Shop at Elphin Lodge retirement village is a favourite meeting place, not only for Elphin Lodge and Ron Smith Care Centre residents and their families, but for residents from all of Rand Aid Association's retirement villages and care centres too.
Warm and welcoming staff serve breakfast from 9am and the coffee shop closes at 3.30pm, Tuesday to Sunday. The comfortable, relaxed atmosphere of Elphino's, together with a tempting menu, provides a convenient gathering place for residents and their families with the additional advantage that Elphino's customers can now also enjoy free WiFi, for two hours per visit. Simply ask the staff for the username and password and connect!
Pictured are Win Gibbs from Tarentaal, Sylvia Goldberg from Ron Smith Care Centre's Woodlands wing and Rose Katzen from Inyoni Creek enjoying a recent get together at the coffee shop.