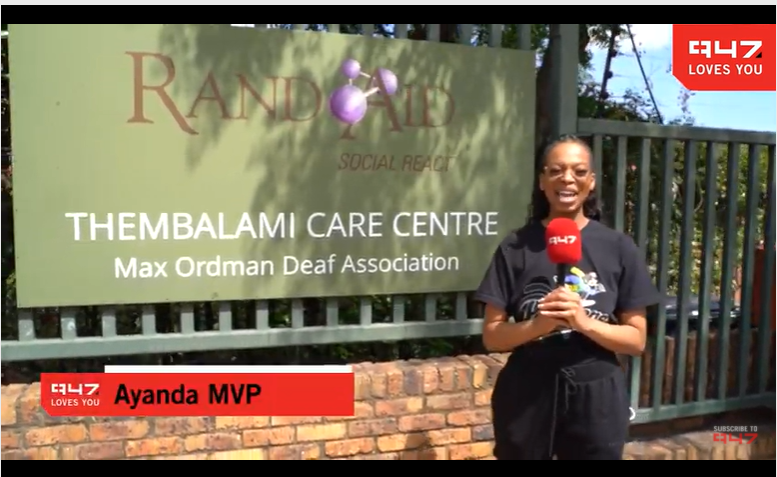 A big shout out to Dis-Chem Pharmacies Foundation and 947 for this amazing initiative and the tremendous support for our residents at Thembalami Care Centre through their #RandomActsOfKindness campaign. Thank you!
The Dis-Chem Foundation and 947 are out to make a difference by helping an organisation that assists frail and elderly residents through their Random Acts of Kindness campaign.
This month's Random Act of Kindness goes to the Thembalami Care Centre, a frail care centre in Lombardy East, Gauteng that caters for 114 elderly residents who require 24-hour nursing care.
Sadly, these residents receive a government grant and subsidies, a small pension and little to no family support or finance to cover their basic needs, and the pandemic has made it increasingly difficult for the old-aged home to purchase the necessary equipment and products that residents require.
The care centre offers the elders a holistic care approach which includes accommodation, 24-hour nursing care with a nurse-call system, a full-time social worker, a doctor on call, a podiatrist, laundry services and an occupational therapy programme.
In addition, the centre which is situated on spacious grounds tries to create a homely atmosphere to comfort residents as well as facilities, including an interdenominational chapel, a library, a hairdresser, a superette, a dining room seating area, a recreational activities area and transport to shops and amenities.
Listen as Ayanda MVP and Dis-Chem Foundation's Sherry Saltzman surprises the Thembalami Care Centre manager, Esme van der Walt with R120 000 to help make a difference in the lives of frail residents.
I believe that we are here for a purpose and that we are here to look after our elderly (so) that so much can be preserved with care. I've learnt so much… every single day you learn something from the elderly – they enrich your life – Esme van der Walt, Manager – Thembalami Care Centre
In recognition of the incredible care that the Thembalami Care Centre has provided for frail residents, the Dis-Chem Foundation donated a store account of R10,000 per month which equates to R120,000 worth of store credit that can be used to purchase the products required to care for the special needs of the elders.
The ethos of the Dis-Chem Foundation is caring for the community and I feel like the aged are often a forgotten part of society. What I loved about this organisation is the amount of love and care that they give to the elderly who, like I said before, are forgotten about and, that touched my soul –

Sherry Saltzman, Representative – The Dis-Chem Foundation
Dis-Chem Foundation's representative, Sherry Saltzman believes that the Thembalami Care Centre is a special home that gives its residents the chance to find new hope and meaning in a caring environment.
Ayanda MVP visits the Thembalami Care Centre to find out how the organisation is making a difference in the lives of the elderly.
Did you know? Every time a Dis-Chem Benefit Programme member swipes their loyalty card when making a purchase, Dis-Chem donates a percentage of the eligible purchase to the Dis-Chem Foundation to help improve the lives of individuals while relieving the burden on communities, families and friends.
To learn more about the incredible work that the Thembalami Care Centre does for the frail residents in the care centre, visit www.randaid.co.za/thembalami-care-centre.