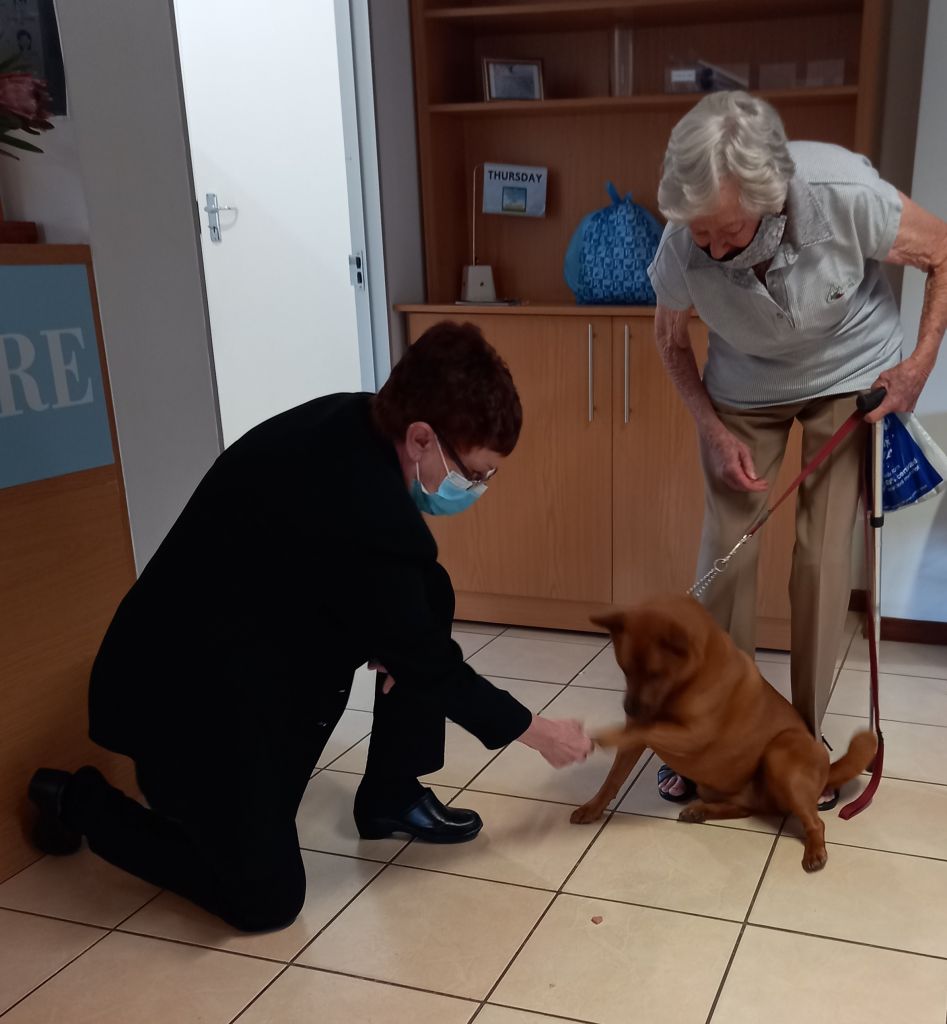 Residents' dogs at Rand Aid Association's Thornhill Manor retirement village know just where to go for a special treat after their morning walk – straight to reception!
Running to reception for their delicious morning treat not only brings the village's furry friends pleasure, but also delights the residents and staff members who get to interact with them.
A firm village favourite is six-year-old Hachiko, a cross chow and Jack Russell terrier, who visits her 'grandmother' and Thornhill Manor resident Ann Raats three times a week when Ann's daughter goes to work.
Hachiko is named after the dog in the movie Hachi: A Dog's Tale, who is remembered for his remarkable loyalty to his owner, Hidesaburō Ueno, for whom he continued to wait for over nine years at the train station following Ueno's death.
After her morning walk with Ann, Hachiko makes a beeline for the office.
"They put a treat on her paw, but she won't eat it until I tell her she can, even if I hide. She always greets everyone and shakes hands with her paw," says Ann, who has been a Thornhill Manor resident for the past 18 years.
Rand Aid Association's Ron Smith Care Centre pioneered person-centred care by becoming the first organisation in Africa to achieve Milestone 2 on the Eden Alternative® Registry in April 2020.
The philosophy is now being rolled out across all Rand Aid's retirement villages and care centres. In line with this, Rand Aid's Inyoni Creek retirement village also welcomes pets – albeit it with certain practical limitations.
Founded in America by a Harvard-educated physician, the Eden Alternative is revolutionising the way in which elders are cared for. The core concept is about teaching us to see places where elders live as habitats for human beings rather than facilities for the frail and elderly. Eden Alternative thus sees aging as a continued stage of development and growth and not as a period of decline.
"In line with the Eden Alternative, being able to have their pet in a retirement village ticks all the boxes for promoting well-being, on a physical and emotional level," says Zabeth Zühlsdorff, the general manager of Rand Aid's services and advance division.
"It is very important for our residents to have interaction with pets. Thornhill Manor is extremely Eden Alternative-active and is an elder-centred community committed to creating a human habitat where life revolves around close and continuing contact with plants, animals and children. It is these relationships that provide the young and old alike with a pathway to a life worth living," adds Thornhill Manor manager Esme Erasmus.
Zabeth says many studies have shown how dogs enhance our lives.
"The bond between humans and dogs goes back for centuries. They assure us of constant companionship, unqualified love and friendship, not to mention the joy derived from their antics.
"It thus makes so much sense to welcome a small dog, belonging to a new resident, into the village. Settling into a new home often takes time, but having a familiar doggy friend around makes things so much better for new residents as it helps them to interact with others and quickly form new friendships. In addition, a dog demands regular exercise and thus encourages physical activity, with the many health benefits that brings," says Zabeth.
Ann's cross German shepherd Sheba lived with her permanently at Thornhill Manor, until she passed away at age 14. "She also loved my garden and her daily walks at Thornhill Manor," says Ann.