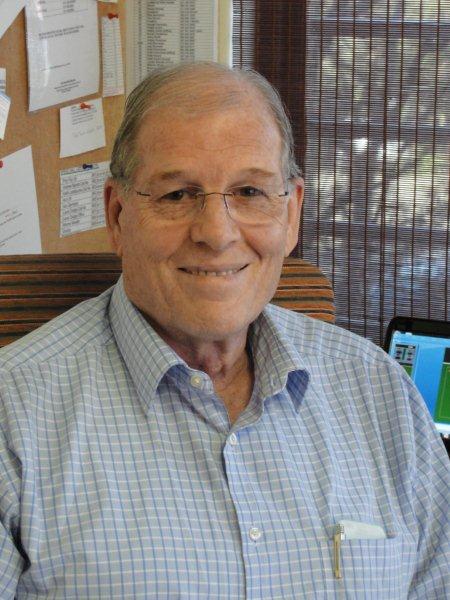 Thornhill Manor retirement village resident Denver Coleman was recently recognised for 60 years long service at Polyflor, where he started training at the factory in the United Kingdom (UK) after leaving school.
"My father owned a floor contracting company in East London. When I was in Standard 8 (now Grade 10), I worked for him in the school holidays helping and learning how to install Polyflor sheet flooring. At that stage, Polyflor was one of the products his company marketed and installed. He saw the potential in the product, which was the first vinyl sheet flooring product invented," says Denver.
"Prior to this, vinyl only came in tile form which was not particularly suitable for healthcare. Only linoleum and rubber flooring came in sheet form and neither are particularly suitable for healthcare. Rubber was also scarce after the war, so Polyflor (then called James Halstead Ltd) was searching for a substitute for rubber and discovered PVC/vinyl sheet flooring – the first in the world at that time," he adds.
Denver's father sold his business and later formed distribution company Poly Sales (the same name we now use and, again, the wheel has turned a full circle) to promote Polyflor Sheet vinyl.
"Healthcare is still one of our main markets, as vinyl sheet flooring is installed 'join free' and is welded, making it an impervious surface and the most hygienic option on the market," says Denver, whose father then persuaded UK management to buy a factory in Edenvale to manufacture locally.
Polyflor in SA
Polyflor in South Africa was bought out in 1969 with all the other local manufacturers by Marley Co, which closed them all down and put a 20-year restraint on the trademark.
"When the restraint ran out in around 1990, the UK company, with which I had always maintained contact, again approached me to ask if we would start again. I did, with Sheila's help," says Denver.
"We slowly built up the business and today we employ around 40 people – 60% to 70% of whom were unemployed at the time and today have been upskilled, hold good jobs and are able to provide for their families. We consider this empowerment. Our staff complement is also quite balanced, with approximately 50% male/female and almost 50% black/white," he adds.
The past 30 years have seen the company re-establish the Polyflor brand in the marketplace, after Marley (now Floorworx) had the sole rights in the SA market for about 15 years.
Now the chairman of the company, Denver is semi-retired. "Our oldest daughter Tandy Coleman has taken over as CEO and has done a great job of modernising and restructuring the company into a progressive, modern business," says Denver, who is still touch with the overall focus and strategy and attends board and other strategic meetings, giving insight into the big picture, technical matters and forward focus.
"We make a great team! The youngsters have great skill and new ideas and I try to blend in a small bit of the old principles/style, without negating the business progress," says Denver.
"As history often shows, today we are almost a mirror image of the business my father started all those years ago when I was at school at Wynberg Boys High. It has much of the same structure, with our own central staff based in Edenvale and some eight to 10 agents in main centres around South Africa, Namibia and Nigeria," he adds.
A changing industry
During the 15 to 20 years of restraint of trade Denver gained valuable experience in other businesses.
"It probably gave me the experience to start a business from scratch, with the help of a partner/mentor – who was a former MD of Marley I met when I worked for them for a few years after the takeover – and Sheila of course, as she was the essential glue that held the company together," says Denver.
"Interestingly, Mike Verburg – another resident of Thornhill Manor – was also part of the Polyflor management team in the 1960s, when I worked in the factory as part of my training," he adds.
Over the years Denver has witnessed many changes in the industry, including marketing strategy, strategic analysis of the market and typical problems with product installation and poor workmanship in the construction industry.
"When we started again, we set about finding out what they were and identifying and creating solutions, which are now standard industry practice," says Denver.
"We now also do a comprehensive needs-based client analysis – including expectations, budget and requirements – and use a custom-designed computer analysis programme that provides a detailed client recommendation offering an entry level, medium level and premium level product, specifically suited to their needs and budget. This is a very different approach to that of a whole heap of product samples on the table," he adds.
Other notable changes include the computerisation of business, customer relationship management systems and electronic marketing, brand building, analysis of customers' needs and websites and blogs, with sophisticated communications and reporting for the sales team. "Another big change is the more modern informal nature of business, in both dress and social behaviour and communication," says Denver.
The man behind the brand
Denver sites being able to look after his team, who the company regards as Polyflor family, giving them a solid and pleasant working environment, helping when needed and being able to pay them all during troubled times, for example in Covid-19, as some of his most significant milestones.
"We have tried hard to create and maintain a family atmosphere within the corporate structure, as we have grown from one to 40 people, and this is one of our guiding principles – having a Polyflor family," he says.
"I suppose the biggest moment for me was putting Polyflor back in its rightful place as a brand in the South African market after the 20-year restraint of trade," he adds.
While it has been hard work, Denver says he has enjoyed it all. "It has given Sheila and I huge satisfaction, looking back and being able to leave a thriving and quality company to go forward and look after its family. Tandy is now Polyflor third generation in SA."
Thornhill Manor retirement village residents for the past four years, Denver says he and Sheila have found the staff and residents friendly and the organisation of the village efficient and well run. "It is a pleasure to be a resident here. The neighbours and some of the men that use the workshop have accepted us so easily, and the fact that we come and go (as we spend as much time as we can at our holiday home at Kleinemonde on the Eastern Cape coast near Port Alfred), does not seem to matter. Overall, we have felt at home at Thornhill."
Now that he has some spare time, Denver has become a model train (and real train) enthusiast. "During lockdown I built a small train layout in my garage. I am still testing the track and electrics, before starting with the scenery."
He also enjoys history and military programmes on TV, such as looking back at World War 2, the development of the American West and many of the engineering project programmes.
In his younger years, Denver played for the Regimental Pipes and Drums of the Transvaal Scottish, having played in Scottish pie bands since leaving school until the late 1970s. "After that, as a hobby, I was heavily involved in practical pistol shooting and taught defensive shooting for 25 years after having trained at three to four top firearms and shooting schools in the USA."