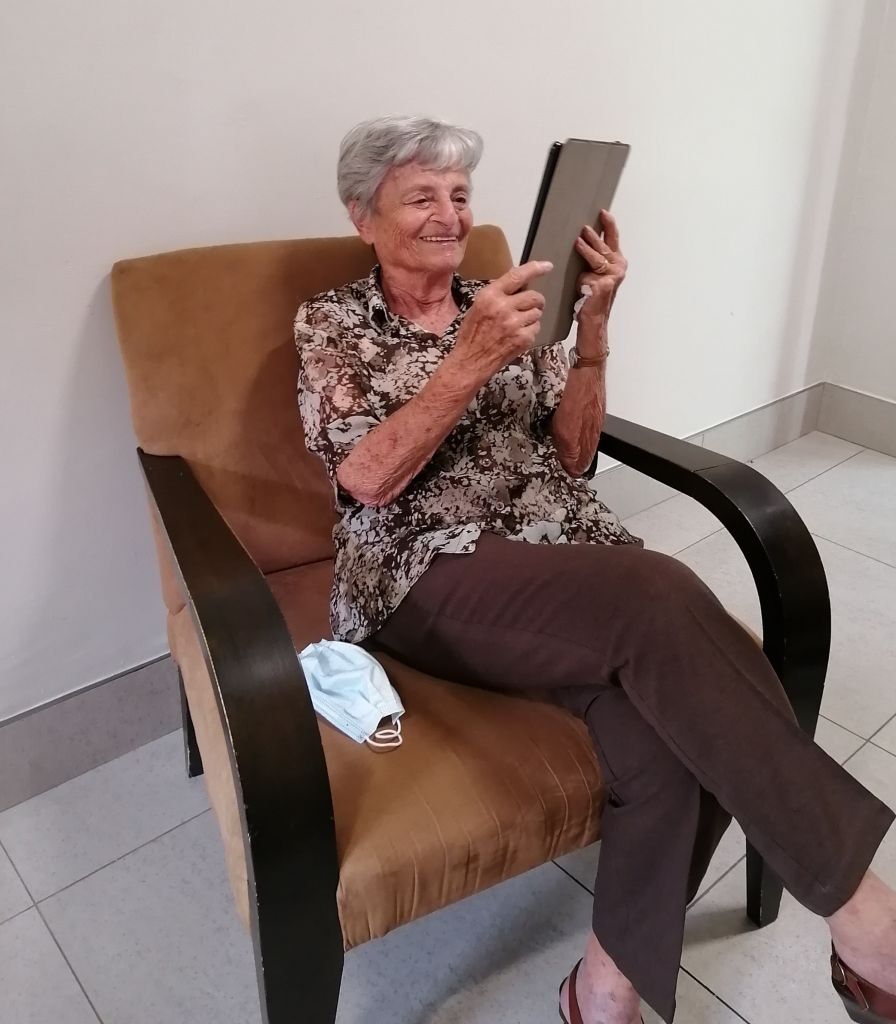 The coronavirus pandemic has had a devasting effect on elderly residents living in care centres, especially during strict lockdown, as they were not able to see their family and friends and thus felt isolated.
"They were lonely and depressed, less interested in participating in organised events and activities and tended to keep to themselves. This just perpetuated the cycle. Some of our residents also showed a decline, not only emotionally, but mentally too," says Thembalami Care Centre social worker Lara Hurwitz.
To turn the situation around, Thembalami put measures in place to enable its residents to connect with family members via WhatsApp video calls.
This made a significant difference for many residents, including Maureen Wigoder (85) who is now able to better communicate with her family in Israel via WhatsApp video call every Friday.
Previously a resident of Rand Aid Association's Elphin Lodge retirement village, Maureen moved to Thembalami in 2020.
"While video calls are not the same as physical contact, they enable residents to actually see their family members and know that they have not been forgotten. They feel a connection with their family and have something else to focus on. Seeing someone physically has a bigger impact than talking to them over the phone. It is more personal and forms a greater connection," says Lara.
Debbie Mendel, Maureen's daughter, relocated to Israel for better study and work opportunities for her children.
"We decided to leave as a family unit, but my mother decided not to join us, even though she could have stayed with us and she was able to get access to Israel. Just as I respected her decision, she respected our reasons for making a new start," says Debbie.
While Debbie was able to speak to her mom on the phone, Maureen battled with video calls and sometimes didn't hear her phone ring.
"We used to call her every day, hoping she would hear the phone and answer. She also does not read her WhatsApp messages regularly. The staff at Thembalami reached out to me and suggested that they use their tablet for us to video call her. We set a day and time and ensure that the whole family is together. Then we speak to her one at a time. Our WhatsApp video calls are now about an hour long and it is a huge comfort.
"She always tells us how she loves seeing us on a larger screen, and appreciates the care and thought that was put into this new way of helping her to communicate with us," says Debbie.
"Many of our residents have never encountered technology like this and you can see the thrill and excitement on their faces, which lasts the rest of the day. It uplifts their moods and outlook on the whole situation. They look forward to the next call," says Lara.
"They can keep up with family news and many follow the progress of their grandchildren, who they miss terribly. Some residents have not seen or met their grandchildren as they are overseas, now they have an opportunity to actually see them," she adds.
"We are forever grateful to the kind staff at Thembalami, who went out of their way to ensure a better way of communicating. I highly recommend this for other families who live far away. I hope this will bring light and comfort to others just as it did for our mom and family," says Debbie.