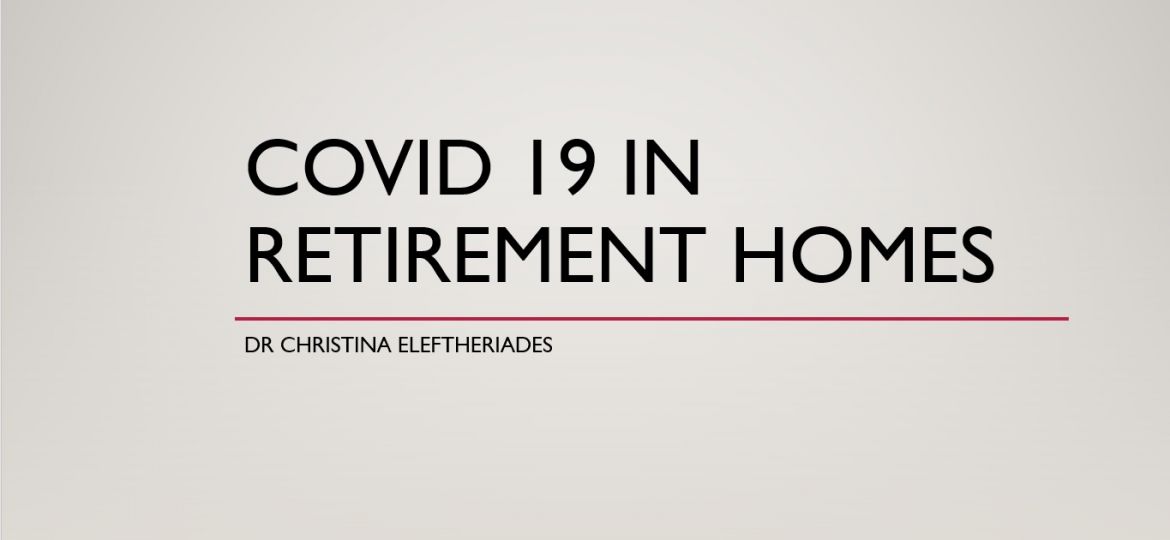 Dr Christina Eleftheriades, a resident doctor at Rand Aid Association, was invited to speak at the South African Geriatric Society's geriatric conference in August. She shared insights into the management of Covid-19 in a care home facility, based on her experience working with residents at Rand Aid's Ron Smith Care Centre.
Dr Eleftheriades wrote an article about the profound impact of Covid-19 on elderly patients and the need for adequate treatment plans. The article, which was published by the South African Journal of Family Practice last September, provided recommendations for the supportive care and treatment of residents in long-term care facilities.
The article drew the attention of the conference organisers and Dr Eleftheriades was asked to be a guest speaker.
Ron Smith Care Centre's medical and care Covid-19 protocols were formulated by Dr Eleftheriades and fellow Rand Aid-based doctor Carmella Mielke, who closely liaised with a team of sub-specialist geriatricians. Both Rand Aid doctors hold Diplomas in Geriatric Medicine.
"The South African Geriatric Society acknowledged our work and Ron Smith Care Centre and requested I present my findings formally at the conference. The conference was held over a month, every Thursday night in August, and I presented on 19 August," says Dr Eleftheriades.
There were approximately 600 delegates, comprising of specialists, general practitioners, physios, occupational therapists, speech therapists, dietitians and healthcare workers interested in learning about geriatrics.
"The scope of the conference extended internationally," says Dr Eleftheriades.
The South African Geriatric Society requires that doctors attend the conference, as a pre-requisite for their Geriatric Diploma.
"It was truly a wonderful experience. The feedback was positive and I have had doctors approach me, wanting to come and see Ron Smith Care Centre and the work we do in caring for our residents. Many colleagues cannot believe the longevity of our residents," says Dr Eleftheriades.
"Rand Aid is extremely grateful to have Dr Eleftheriades and Dr Mielke based onsite in the grounds of Ron Smith Care Centre and Elphin Lodge retirement village," says Zabeth Zühlsdorff, Rand Aid's general manager: services and advance division.
"Their Covid-19 management approach at Ron Smith Care Centre was excellently planned and executed and Rand Aid, all of our residents and their families are extremely grateful to have such admirable skills on hand," she adds.