Sean to tackle Munga in memory of his dad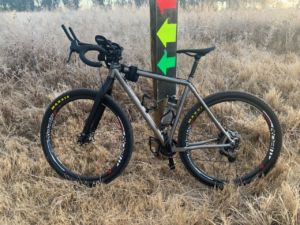 Despite a recent fall that resulted in a cracked rib and twisted knee, Greenstone resident Sean Wheeler says he will be ready to tackle the mighty Munga mountain bike challenge on December 2.
The Munga – billed as the toughest race on earth – is a non-stop single stage, semi-supported mountain bike race through the remote and rugged Karoo. Riders have 120 hours or five days to ride 1 080km and make the cut-off.
The race begins in Bloemfontein and ends in Wellington in the Cape Winelands. There are five race villages where riders can rest and get mechanical assistance, as well as a number of water points placed between 60km and 90km apart. Everything a rider needs must be taken along, or bought along the way, and carried on the bike.
This is the third time Sean will be doing the race to raise funds for Thembalami Care Centre in Lombardy East, which looks after vulnerable older persons. Sean's dad Mike was a resident there for a number of years but sadly passed away in July, during the lockdown.
"I will be riding in memory of my dad and in support of all the amazing caregivers at Thembalami who have had a really tough time during the coronavirus pandemic," says Sean.
Sean's last Munga, in 2018, was not without its challenges. Although he managed to cycle the 224km to the first race village before midnight on day one and pushed on after only a short rest, he later faced both health and mechanical troubles.
His Garmin froze a number of times, causing Sean to go off course, not only missing valuable rest points but adding nearly 40km to his race. In addition, he had a bad chest infection and, at one stage, was given oxygen by medics. He also had an extremely raw rear end.
The race was gruelling, with temperatures reaching 42 degrees and dropping to a minimum of six degrees.
In the end, he rode 1 113km in just over four days (101.30 hours), averaging 278km in each 24-hour period. His last push to the finishing line saw him cycling for 25 hours straight, only stopping for short rests.
This year, he hopes to knock around 20 hours off his time and finish in 80 hours. One of the tactics he will be using to achieve this is to ride a bike with no suspension. "The winner did it on a bike like this last year; it should be a bit faster, I hope. What you lose in comfort, you gain in speed and hopefully spend less time on the bike," says Sean.
"My training has gone well, except for the crash in September. By October 3, I had completed 12 000km of training this year, most which was done on an indoor trainer because of the coronavirus lockdown."
As always, Sean will personally cover all his expenses – race entry fee, equipment, etc. – so all donations go to Thembalami, except for the small percentage charged by the crowdfunding platform Backabuddy.
Sean, who is the head of business development at DHL Global Forwarding SA, and his wife Chantal, this year became the proud grandparents of Harley-Rose, born during the lockdown in May. "It is a real pity that my dad never got to see her but we are enjoying every possible weekend we can with her. She is amazing," says Sean.
Ayanda Matthews, a general manager at Rand Aid Association – the NPO that runs Thembalami – says whenever she used to look at Mike, she would see Sean. "He had the same disarming smile as his son."
Make a donation
In his 2018 race, Sean raised R45 000 for Thembalami and hopes to beat that amount this year. "I realise times are tough for everyone, so any small donation will be appreciated. Your kind support is what will get me to the finish line, no matter what the size of the donation.
"Many of the elders at Thembalami receive only a government grant. Together, we will be making a difference to Thembalami's residents and their amazing, selfless caregivers."
RAND AID IS ABLE TO PROVIDE A SECTION 18A DONATIONS CERTIFICATE. TO MAKE A CONTRIBUTION, PLEASE VISIT WWW.BACKABUDDY.CO.ZA/MUNGA-FOR-THEMBALAMI
The suspension-free bike Sean Wheeler will ride in the 2020 Munga.
Sean Wheeler at the Munga in 2018.
A photo taken by Sean Wheeler on the Munga route through the Karoo in 2018.
Sean and Chantal Wheeler with Harley-Rose, their granddaughter, who was born during the lockdown.
Go to www.backabuddy.co.za/munga-for-thembalami to make a donation and help this extreme sportsman reach his goal of raising a considerable sum of money for Thembalami Care Centre.