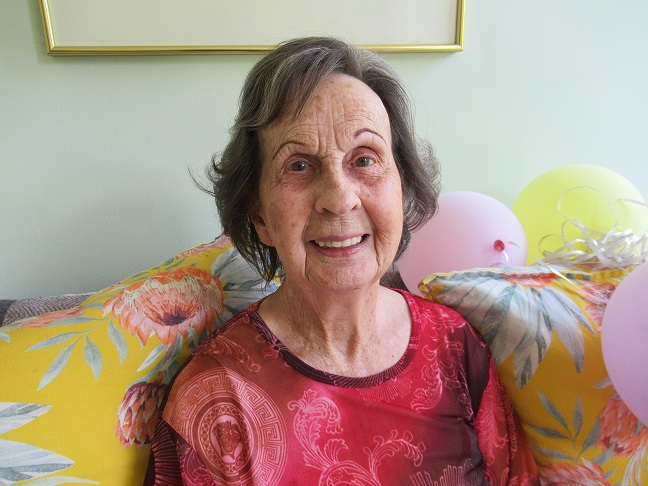 Ron Smith Care Centre resident Megan Weeks, who raised her brood of children to appreciate education and honest values, celebrated her 90th birthday on October 17.
As a result of the coronavirus restrictions still in place at care centres, her large, devoted family was unable to hold the big party she deserves, but once it is safe to do so, a celebration of her life will be held.
Born Megan Howell in Zambia in 1930, the nonagenarian was the youngest of three children. Her family soon moved to Bulawayo in Zimbabwe, which is where she spent most of her childhood.
Although she disliked being sent to boarding school, she was a good student and particularly enjoyed maths. She played hockey and was a strong swimmer. But most important to her was her father, whom she adored, and she was heart-broken when he left to fight in the Second World War and was away for long periods.
After completing school, Megan moved to the beautiful mountainous town of Umtali, now a city called Mutare, on the eastern Zimbabwean border with Mozambique. There, she met her husband-to-be, Thomas Weeks, who had completed his medical doctorate in Pretoria and had moved to Umtali to do his medical internship. They married quite quickly and together they returned to South Africa. Children quickly followed: one, two, three, four, five, six and seven, making the Weeks parents to five daughters and two sons.
"My parents moved around a lot initially. They lived in Pretoria, Krugersdorp and Middelburg but eventually settled in the southern suburbs of Johannesburg, which is where the kids all went to school," shares daughter Meagan Jeffery.
"Mom was always a devoted mother and there is no doubt that we kids must have been a handful! Our dad, who we called 'Pa', worked long hours as a doctor in various hospitals in Pretoria and Johannesburg (including at Baragwanath hospital in Soweto) and during this time, Mom was the matron of the house."
Dr Weeks ended up working at South Rand Hospital for many years, where he was a general surgeon. Meagan says he was a dedicated doctor who loved his work.
"From an early age, my mom instilled in us the importance of getting an education and studying hard. And she has always been a great believer in doing what's right – being honest and also learning to say sorry. Mom was strict and feisty – and those who know her today will see that she still carries those traits," says Meagan.
When Thomas decided to start his own medical practice – which was attached to their home, Megan became his receptionist, bookkeeper and nursing assistant… and still managed to place a meal on the table every night for the family.
"She had no training but developed a knowledge of medicine that was exceptional."
Over the years, two key themes filled her life – her strong Christian faith and her dedication to her youngest son Sam. Samuel had Down's Syndrome and needed constant special care.
"It was heartbreaking for Mom when she realised that she was no longer able to take care of him and she moved him to a special home for children like him. Mom continued to visit him every few days, for many years, to ensure that he was well cared for. Sam passed away three years ago and while Mom was very sad, she was also relieved for him because she knew that he had moved onto a better place," says Meagan.
"Today, Mom has dementia and is not quite the person she used to be. However, anyone who takes care of her will know that she still has a feisty spirit and remains a strong Christian. Catch her at the right moment and her sense of humour comes through and she will have you laughing. She may be forgetful, but she remains smart and still beats most of us at a game of Scrabble!
"So Happy 90th Birthday, Mom, from all of us! You should have had a big party surrounded by your many children and grandchildren and great grandchildren. It's a strange world we find ourselves in now – but hang in there, we still plan to celebrate with you once the coronavirus allows us to! You're a legend and we all love you dearly," says Meagan.